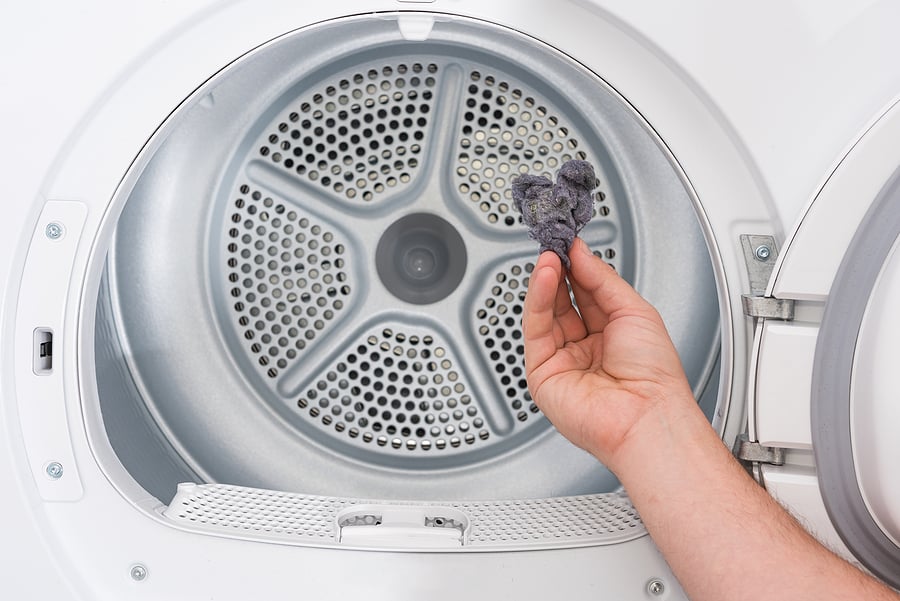 Asurety's Annual Dryer Vent Inspections & Cleanings Help Prevent Property Damage
Have you ever been in a hurry to get out the door, and you went to grab your favorite sweater from the dryer, but when you reached in the clothes were still damp? Yeah, that's not cool. And it's definitely not something the members of your resident community enjoy either. Now, one thing we know not to do—based on the dryer fire prevention tips found here—is to turn the dryer back on and then leave the house.
But why didn't the clothes get dry? The lint traps are cleaned before or after every load. There's no burning smell or visible smoke, so there's likely no blockage in the dryer vent. What gives?
Does the dryer vent hose need to be replaced?
If you've received complaints from residents that the dryers you supply aren't functioning properly, it's time to double check the dryer vent hose.
Sometimes, the problem with a dryer not completely performing its duties is due to the degradation of the dryer vent hose. Not only can dryer vents get clogged and become a fire hazard, they can get worn, damaged, corroded, crushed, or restricted. This results in wasted time and money.
Problems with dryer vent hoses
Many years ago, dryer vent hoses were made out of flexible vinyl or foil, both of which are flammable materials. If the dryers on your property have old-school vent hoses, it's time to change them out to flexible rigid hoses that are also less susceptible to damage.
Damage to dryer hoses can happen a number of ways. For example, in the south, where humidity is high in the summer, hoses can rust in places where water saturation in the air is high. Rust can create small holes over time that allows air to escape, reducing the efficiency of the dryer.
As dryers are repeatedly used, the vibration of the machine can cause the machine to inch around on the floor, pushing against the hose causing it to kink or become restricted in some way.
Sometimes, in the haste of putting clothes into washers and dryers, something might fall behind the dryer, denting the vent. It's also likely that the attempted extraction of the fallen item could cause a tear.
As with any part of a mechanical object, the wear and tear of use, the length of time in service, and its location is going to have an impact on its life expectancy. When dryer vent hoses are regularly inspected, it's easy to keep track of their wear and tear so that replacement is timely.
A healthy dryer vent hose is a must-have
At Asurety, we know all about what makes a dryer vent hose efficient, healthy and safe. When we perform our inspections, we take note of things like:
Dryer vent must be 4" in diameter
Dryer hoses shouldn't be longer than 25'. Having the appropriate length of dryer hose for the space will result in more efficient drying, saving your residents time and money.
Dryer vents should end outside, not in a chimney, crawl space, attic or garage; they should be completely separate from any other system.
A back draft damper and bird guard should be installed where the dryer vent ends outdoors.
Visible damage, kinks or restrictions of the dryer vent hose.
A visual inspection of all joints and intersections.
We notice it all, then we generate a thorough report, and talk through every point of the inspection with you.
Our goal is to help keep your property and residents safe
There are a lot of small, yet important details that are required for preventing dryer fires. Our solutions experts keep on top of the latest training and code updates so that we make sure your units are inspected according to the latest information.
We don't mark up inspections to report repairs or updates you don't need. Yes, we'll make recommendations, but we want you to make the best decision for your property and your residents. We're here to guide you through inspections making sure you meet fire codes and safety regulations.
It's easy to schedule an inspection with us. Simply book an appointment below, and we'll be in touch with you. To make it even easier for next year's inspection, get added into our automated scheduling program.